From the horse's mouth
SOUTH CHINA MORNING POST
Will Sammi marry Andy?
Will scandals rock the Government?
Florence Ng asks fung shui master
Edwin Ma Lai Wah and crystal therapist
Eliza Mok Suk-yee what the new lunar year has in store
Principles of prediction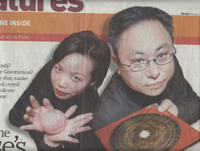 We asked fung shui master Edwin Ma Lai-wah, vice-president of the Metaphysical Institute to use I Ching (The Book Of Changing) and psychic and crystal therapist Eliza Mok Suk-yee to read her crystal-charged tarot deck. I Ching is and ancient oracle derived from a Chinese classic of the same title. Ma tosses six copper coins to obtain a head or tail, which are interpreted as yang and yin respectively. The combinations are then written as hexagrams - or line figures-providing divinatory answers.

Mok's tarot readings are obtained from three tarot cards chosen from a deck charged with crystal energies.

The crystal design on each card and its upright or reversed position reveals the past, present and future situation of the question being asked

THE WORLD
Ma on the globat outlook

The world is trapped between water (the upper image) and mountains (the lower image), which signifies dilemma. The global economy will be stagnant but we can still make modest progress if we save our money rather than spend it. Businesses should be more pragmatic - they should work on strengthening their people power and raising their capital before venturing into risky,high-flying projects.

It is highly likely that the west coast of the United States will succumb to a series of bushfires.

In China, floods will affect the northeast so prevention wrovinces. Although the situation looks relatively calm now in Afghanistan, there will be internal conflictsor even civil war in the new year. There Will be no large-scale terrorist attacks but skirmishes orchestrated by Middle Eastern terrorists are likely to take place in countries allied to the US, such as Britain and Australia.

Osama bin Laden's luck will run out when he reaches the age of 46 (2003 if media reports ofhis birth year are correct). Only then will the al-Qaeda terrorist organization be disbanded.
As the new year kicks off, Hong Kong's economy will be sluggish. A wave of redundancies will occur just before and after the start of Lunar New Year. The catering sector will be hit hard and a local media conglomerate will collapse. But then things will settle down. The economy will start to pick up in June and make substantial improvements in October. The construction and banking industries will fare well and the stock market will be more stable. Investment in blue-chip stocks will yield sound outcome with better performance after June.

More mergers or restructuring in public and private companies will take place to strengthentheir market positions. The Government will undergo restructuring and there will be a reshuffle of senior officials at the nerve centre. The shake-up is more apparent in security-related departments and it will intensify in August and September. More scandals within the Government or government -backed projects will be exposed this year and officials will step down as a result. It will facilitate bureaucratic reform.

Ma's predicitions for prosperous districts:

Northwest (for example, Tin Shui Wai) and northeast (Tai Po) Regions.

Ma's predicitions for less well-off districts:

East (such as Sai Kung and Tsueng Kwan O) and South (Repulse Bay and Lamma Island) regions.

Ma's fung shui tips:

To attract good fortune, place a camel-coloured rug in the northwest corner of your home of office to enhance your money-making power. The southwest corner is good for studying and career promotion. You can put a green plant with four stems there (bamboo is perfect but avoid the spiky cactus).

The southern corner will inflict ailments and the eastern spot will trigger conflict and money loss. Place six cons or round metal objects there to dilute the threat.
To attract romance or conceive babies, you should place a rose quartz or nine roses in the southwest corner.
"Although Tung definitely will run for the second term, he has gone through an emotional struggle to get there. Lack of public supporzt in his first term of office has dampened his spirit." Edwin Ma . (page 2)